EXAMPLE 3: THE WORK-ENERGY RELATION
<![if !vml]>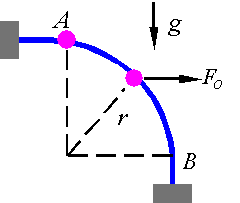 <![endif]>
<![if !supportTextWrap]>
<![endif]>
<![if !supportEmptyParas]> <![endif]>
<![if !supportEmptyParas]> <![endif]>
<![if !supportEmptyParas]> <![endif]>
A particle moves under the constant horizontal force <![if !vml]>

<![endif]> and gravity from point A to B on the smooth circular bar. Calculate the work of the forces applied on the particle.
<![if !supportEmptyParas]> <![endif]>
<![if !vml]>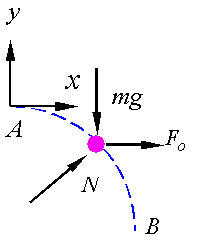 <![endif]>
<![if !supportTextWrap]>
<![endif]>
Solution:
<![if !supportLists]>· <![endif]>Work of N: N is perpendicular to the path at all times and, as a result, has no component tangent to the path . Therefore, N does no work from A to B.
<![if !supportLists]>· <![endif]>Work of <![if !vml]>

<![endif]> and mg:
<![if !vml]>

<![endif]>
 <![if !vml]>

<![endif]>